Manufactured Odorless Pump Stations
(MOPS)
The MOPS program is a service to be used by design and consulting engineers in the application and permitting of standardized stormwater and wastewater pump stations nationwide.
Our Manufactured Odorless Pump Stations (MOPS) are designed to comply with all the requirements of the Great Lakes-Upper Mississippi River Board of Public Health and Environmental Managers (1997 Edition, a.k.a. Ten States Standards), which most of the States and Territories have adopted.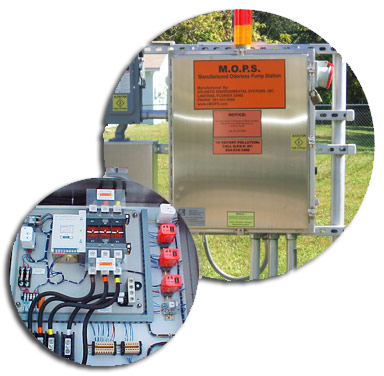 The MOPS program has two (2) parts:
Part # 1 consists of designing and permitting the pump station. This includes supplying the Consulting Engineer with a complete Engineering Report and AutoCAD drawing of the pump station for their submittal to permitting agencies. Design calculations, pump curves, and system head curves are included in the Engineering Report.
Part # 2 consists of manufacturing and supplying the manufactured odorless pump station. The MOPS station is manufactured with the highest quality materials and workmanship. Our manufacturing staff has over 30 years of pump station experience.
Once the pump station is installed, and a start-up is performed, an on-site monitoring and maintenance program is available (for selected areas). The maintenance program includes backup parts, service, standby pumping, and optional Remote Telemetry System via cell phone and satellite service (service contracts are mandatory for some municipalities).
The MOPS program, in most cases, is offered to design engineers on a "no-fee" basis to assist with the permitting process.
MOPS stations are available for a wide range of service conditions and sizes, from small grinder stations to large horsepower non-clog applications, both private and municipal.
Please fill out our design application form or email [email protected] for more information
An Odorless Pump Station?
This is correct. Atlantic Environmental Systems, Inc. has been involved in pump station odor control for nearly 30 years. Each pump station is supplied with is an odor-scrubbing system that removes waste odors, mercaptans, and toxic hydrogen sulfide gases.
The MOPS odor scrubber has a long life expectancy and is easily and economically recharged when needed. The pump station's odorless design is ideal for apartment complexes, restaurants, parks, campgrounds, offices, stores, or any other area where wastewater and/or sewage odors and toxic gases cannot be tolerated.
Most importantly, this odorless design is compliant with Florida's design regulations. The State of Florida Department of Environmental Protection requires odor control to be designed into sewage wastewater pump stations: